Dr. Richard Montgomery Joins Georgetown Community Hospital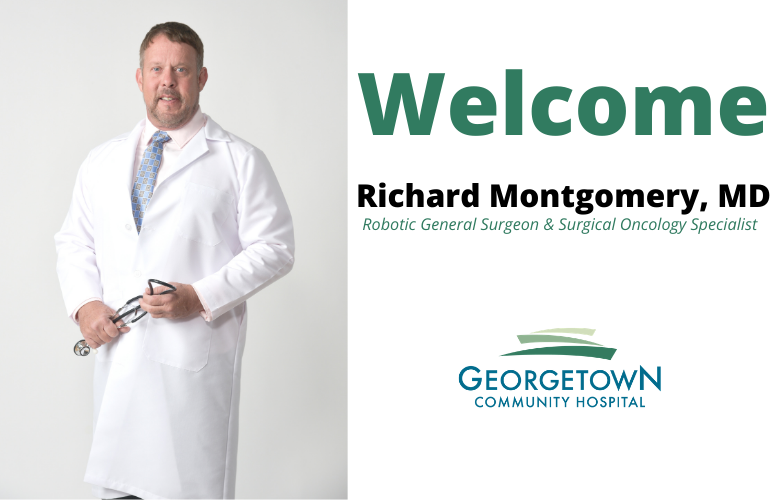 Experienced in surgical oncology, laparoscopic and robotic general surgery

During his 22 year surgical oncology/general surgery practice with the Lexington Clinic, Dr. Montgomery served as the Director of Robotic Surgery at St. Joseph Hospital in Lexington, and as the Commission on Cancer Liaison Physician for St. Joseph Hospital, and with the American Cancer Society. He also was the on-site Clinical Director of Surgical Residency for the University of Kentucky at St. Joseph Hospital and the Lexington Clinic, Lexington, Kentucky.Georgetown, Kentucky (April 13, 2021) – Richard Montgomery, M.D., has recently joined Georgetown Bariatrics and Advanced Surgical Services, and also Georgetown Community Hospital. He is board-certified in general surgery by the American Board of Surgery, fellowship-trained in breast surgery and general surgical oncology, and has extensive experience in advanced surgical robotics, and advanced minimally invasive surgery.
Dr. Montgomery graduated with his medical degree from the University of Louisville School of Medicine, Louisville, Kentucky, and served his residency at the University of Louisville School of Medicine in the Department of Surgery - Division of General Surgery. He served his breast and advanced oncologic surgery fellowship at the Fox Chase Cancer Center Department of Surgical Oncology in Philadelphia, Pennsylvania.
He is a fellow with the American College of Surgeons, and has been admitted to the Society of Surgical Oncology, the American Association of Cancer Research, the American Society of Clinical Oncology, and the Society for Surgery of the Alimentary Tract.
Dr. Montgomery was raised and educated in Texas, trained in Louisville and Philadelphia and has lived in Fayette County for over 20 years. He and his family currently reside in Lexington.
He will begin seeing new patients in his office at Georgetown Bariatrics and Advanced Surgical Services, 1002 Lexington Rd., Georgetown, KY 40324. For a referral or to schedule an appointment, please call 502-570-3727 or visit GeorgetownBariatricsAdvancedSurgical.com. His office hours are Monday through Friday 8 a.m. to 4:30 p.m.
Read All Posts