Four Central Kentucky hospitals release economic impact reports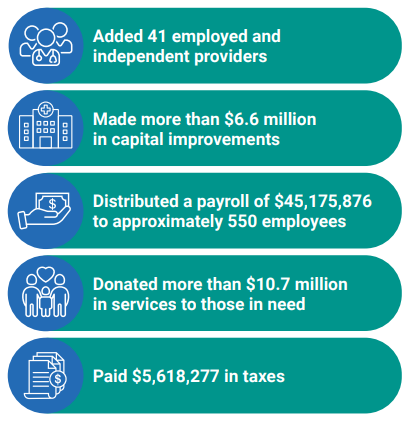 Each of the four hospitals comprising Lifepoint Health's Central Kentucky Market today released their Community Benefit Reports, which outline the economic impact of the facilities on their local communities for the 2022 fiscal year. The reports for Georgetown Community Hospital, Bluegrass Community Hospital (Versailles), Bourbon Community Hospital (Paris) and Clark Regional Medical Center (Winchester) outline details such as the number of capital improvements, amount of payroll, taxes paid and more.
"As community and regional facilities, our hospitals, clinics and ERs are important access points for healthcare in Central Kentucky," said Cliff Wilson, CEO of Georgetown Community Hospital and Market President for Lifepoint Health's Central Kentucky Market. "In addition to providing that high-quality healthcare close to home, we know our economic impact is also a contributor to our mission towards making communities healthier®."
Combined, these Central Kentucky hospitals:
Employed over 1500 individuals market-wide
Distributed a combine payroll of nearly $128 million
Donated $30.9 million in services to those in need
Paid $16.9 million in taxes
The report for each hospital was posted on its facility website and is linked below.
Bluegrass Community Hospital Community Benefit Report
Bourbon Community Hospital Community Benefit Report
Clark Regional Medical Center Community Benefit Report
Georgetown Community Hospital Community Benefit Report
###
About Lifepoint Health in Central Kentucky
Clark Regional Medical Center in Winchester, Bourbon Community Hospital in Paris, Georgetown Community Hospital in Georgetown and Bluegrass Community Hospital in Versailles comprise a network of hospitals within Lifepoint Health. Each hospital offers a wide range of inpatient, outpatient and emergency services and all are recognized quality leaders through the National Quality Program. Working as an integrated network, together these hospitals offer 237 beds and with a 17-county combined service area in Central Kentucky, offering critical services close to home. For more information, visit our websites: ClarkRegional.org, GeorgetownCommunityHospital.com, BourbonHospital.com, BluegrassCommunityHospital.com.
Read All Posts