New procedure to reduce lower back pain now available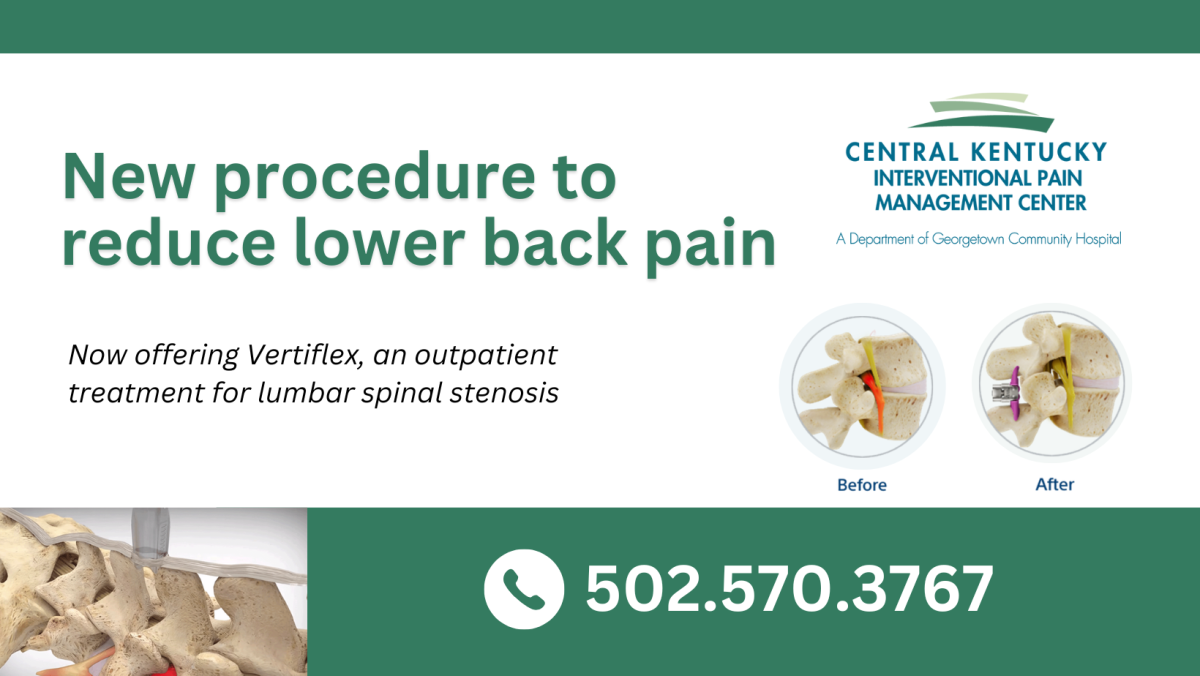 New procedure to reduce lower back pain now available at Georgetown Community Hospital
GEORGETOWN, Ky. (January 31, 2023) -- Georgetown Community Hospital and Central Kentucky Interventional Pain Management are pleased to announce the addition of the Vertiflex Procedure, a minimally invasive treatment option for chronic lumbar spinal stenosis, to service offerings. The procedure has been proven to be a safe and effective alternative to traditional surgery, with a high success rate in relieving chronic lower back pain and leg pain.
"We are really pleased that we can offer this service here in Central Kentucky," said Vinod Muniswamy, MD, MPH, FAAPMR. "This is a quick and easy outpatient procedure that has the potential to dramatically improve the pain in patients' lower back—and less back pain means a higher quality of life."
The Vertiflex Procedure is performed using a small incision in the patient's back, through which a spacer device is inserted to create more space within the spinal canal. This helps to relieve pressure on the nerves, resulting in improved pain and mobility for the patient. The procedure is performed on an outpatient basis and does not require a hospital stay.
Patients with spinal stenosis often experience back pain that is relieved by leaning forward, trouble walking, and pain radiating down the backs of their legs. It is most often found in older adults.
Central Kentucky Interventional Pain Management has clinics in Paris, Versailles and Georgetown, all of which are dedicated to providing the latest and most advanced, minimally invasive treatments for their patients. The addition of the Vertiflex Procedure is a testament to that commitment. Patients who are suffering from chronic lumbar spinal stenosis and are interested in exploring the Vertiflex Procedure as a treatment option are encouraged to speak with their healthcare provider or call 502-570-3767 to make an appointment with Central Kentucky Interventional Pain Management.
Read All Posts