Senator Damon Thayer and Representative Phil Pratt Recognized as a 2021 Partners for Commonsense Justice at Georgetown Community Hospital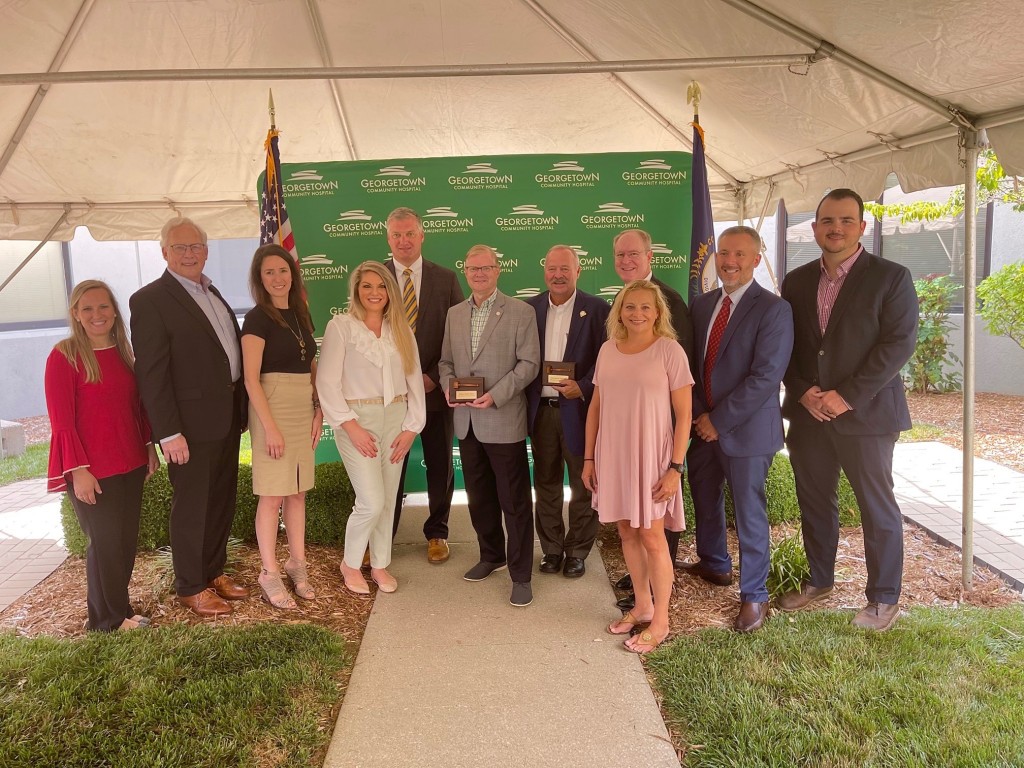 On Thursday, July 15, 2021, Senator Damon Thayer and Representative Phil Pratt were recognized as "2021 Partners for Commonsense Justice" by local business and community leaders. The award from the Kentucky Partnership for Commonsense Justice (PCJ) recognizes state legislators who went above and beyond in Frankfort to protect small businesses, healthcare providers, and schools from frivolous COVID-19 lawsuits.
The recognition from the group stems from Thayer's and Pratt's support of Senate Bill 5. The bill provides protections for health care providers, businesses, organizations, schools, and individuals who have reopened and are following recommended guidelines amid the coronavirus pandemic. The legislation enjoyed support from a large coalition of groups from the business, medical, education, retail, and many other sectors. Senator Thayer co-sponsored the bill in the Senate and Rep. Pratt worked hard to secure its passage in the House.
The award presentation took place at the Georgetown Community Hospital (GCH) and included local state health, business, and education leaders.
William Haugh, Chief Executive Officer at GCH and Kentucky Hospital Association Board Chairman, said "As a healthcare provider, we witnessed many challenges firsthand in the past year." Haugh went on to say, "We really appreciate the hard work of Senator Thayer in co-sponsoring the bill and getting it to the floor, as well as Representative Pratt to secure its passage in the House."
Prior to the start of the General Assembly's 2021 legislative session, a poll conducted by the firm Mason-Dixon showed overwhelming support from Kentuckians for COVID-19 liability protections. When asked if businesses that act in good faith when reopening during the COVID-19 pandemic should or should not be provided protections from lawsuits, 67% agreed that they should while 22% did not support such protections. Support was mainly even among all Kentucky regions, age, gender, and party registration.
Read All Posts