Bridget Foster is selected for 2023 Mercy Award at Georgetown Community Hospital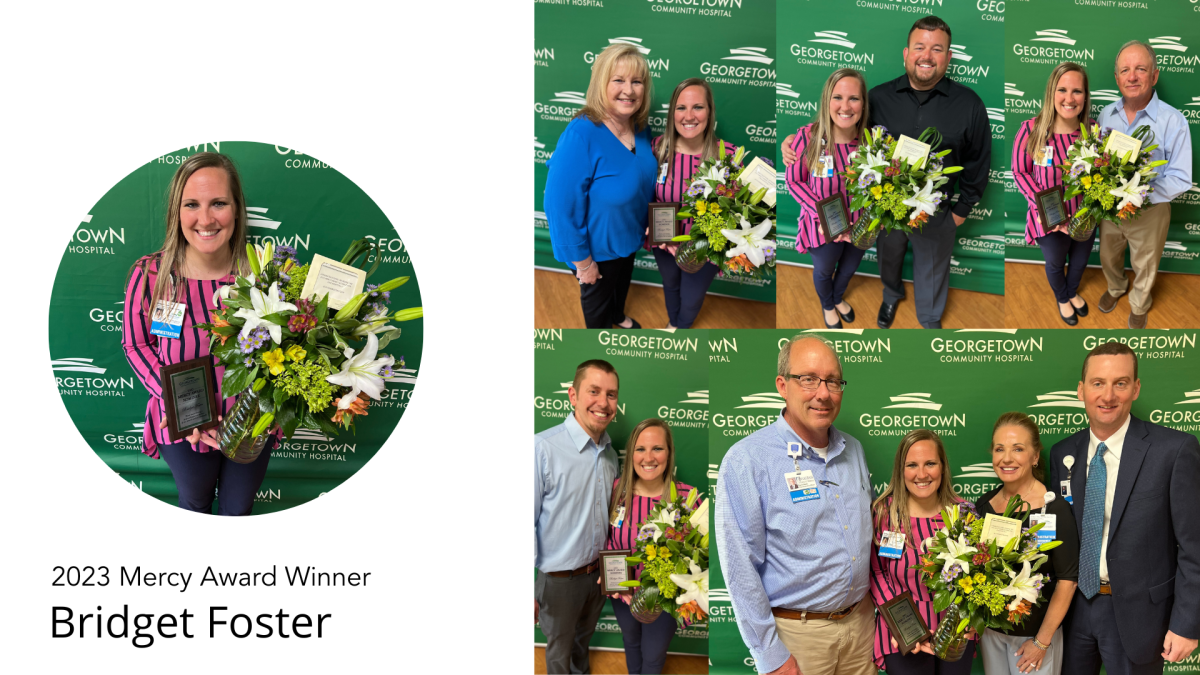 GEORGETOWN, KY. (May 17, 2023) – Georgetown Community Hospital (GCH), part of Lifepoint Health's Central Kentucky market, is happy to announce that Growth & Outreach Liaison Bridget Foster has been named the 2023 Mercy Award winner. Foster was selected for always having a positive attitude, her commitment to her role in the growth and development of GCH and for volunteering and serving in a variety of leadership roles in the Scott County community.
Bridget Foster has been employed at Georgetown Community Hospital for over 8 years. During her tenure, she has served in a variety of business development roles. Currently, Bridget serves as the Director of Growth & Outreach for both Georgetown Community Hospital and Bluegrass Community Hospital (Versailles, KY). She excels in creating relationships, recruiting and retaining providers, and growing service lines at both facilities.
"At Georgetown Community Hospital, we are grateful to have Bridget on our team," said Cliff Wilson, CEO of GCH and Market President for Lifepoint Central Kentucky. "The Mercy Award is a great honor that represents not only the great work at our hospital, but making a positive impact in our community and Bridget excels at both. Georgetown Community Hospital would not the same without Bridget Foster."
Foster always has a positive attitude and motivates others to be the best version of themselves. She encourages others to think differently and is a shoulder to cry on for the team. Bridget is very outgoing and never meets a stranger. Her warm personality is a true asset to the hospitals and communities she serves.
Bridget Foster is currently involved and active within the community, including but not limited to, the following.
Amen House Board
American Association of Physician Liaisons
Elkhorn Crossing School Advisory Council
Georgetown Healthcare Professionals
Georgetown-Scott County Chamber of Commerce Past-President
Georgetown-Scott County Young Professionals
Kiwanis Club of Georgetown, KY Board, Co-Chair/Marketing Chair of Fair Board, and Past-President
Whitaker Bank Advisory Board
She has formerly served on the following boards, committees, and councils throughout her tenure with Georgetown Community Hospital.
Children's Montessori School of Georgetown Board Member
Georgetown Rotary Club Member
Georgetown-Scott County Chamber of Commerce Vice-President of Marketing and Events and Board of Trustees
Georgetown Women's Club Member
Health Care Explorers Post 1140 Committee Member
Kentucky Society for Healthcare Public Relations and Marketing Board Member
Leadership Scott County Graduate and Steering Committee Co-Chair
Lifepoint Health Marketing and Communications Leadership Institute
Lifepoint Health Marketing Council
Lifepoint Health PRI Council
Philanthropic Educational Organization (PEO) Member
Quest Farm Executive Board Member
Salvation Army Advisory Council Board
Scott County Relay for Life Marketing Chair
Scott County United Board of Trustees
The Lifepoint Mercy Award program memorializes the legacy of the late Scott Mercy, Lifepoint's founding chairman and CEO. Each hospital annually selects one local Mercy Award winner who consistently strives to embrace Scott's caring philosophies and reach the high standards he set for Lifepoint. The Mercy Award is the highest honor a Lifepoint Health employee can receive.
Read All Posts