Christy Walls is Selected for 2022 Mercy Award at Georgetown Community Hospital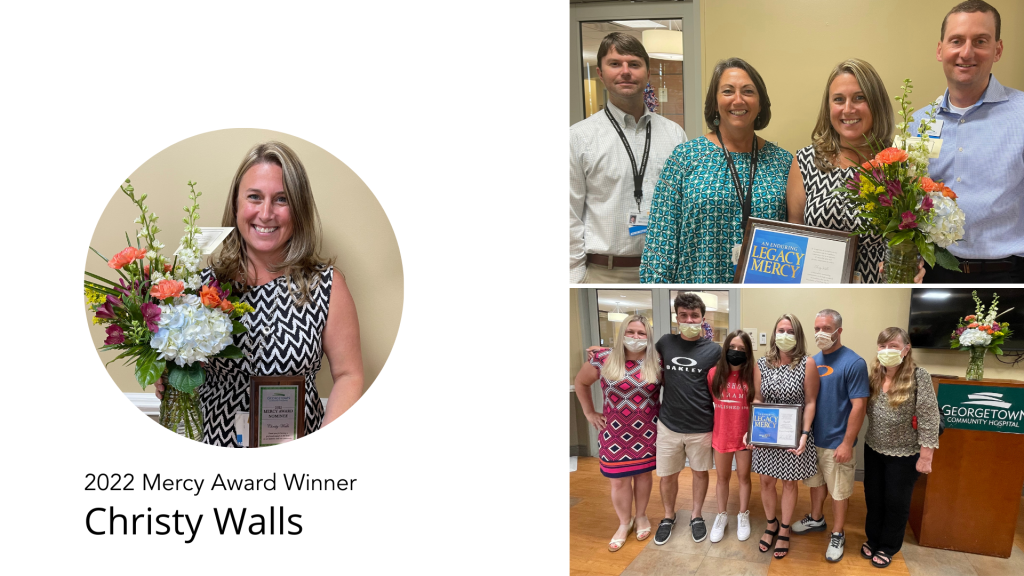 (Georgetown, KY – June 20, 2022) Georgetown Community Hospital, part of the LifePoint Health Central Kentucky market, is happy to announce that Administrative Assistant, Christy Walls, has been named the 2022 Mercy Award winner for always putting the needs of patients first and being an active leader in the Scott County community, all while exemplifying the spirit and values upon which the LifePoint company was founded.
Christy Walls has worked for Georgetown Community Hospital for over 12 years now, continuously going above and beyond for hospital staff and patients. Her first question in any process change or difficult situation is "how will this affect our staff and patients?" Christy works hard to think of solutions that minimize disruption in services and improve communication.
Christy's dedication to serving others expands beyond the hospital's walls. She is an active supporter of school athletics, with her son and daughter involved in a variety of sports activities over the years. She has also been involved in Scott County Leadership for over 10 years, managing the Healthcare portion of the program at Georgetown Community Hospital each year. She also participates in local chamber events, local fundraisers and Women in Business.
"We are so fortunate to have a team member like Christy at Georgetown Community Hospital," said Cliff Wilson, CEO. "Christy is a shining example of what great customer service looks like - she always puts the needs of our patients and staff first."
The LifePoint Mercy Award program memorializes the legacy of the late Scott Mercy, LifePoint's founding chairman and CEO. Each hospital annually selects one local Mercy Award winner who consistently strives to embrace Scott's caring philosophies and reach the high standards he set for LifePoint. The Mercy Award is the highest honor a LifePoint Health employee can receive.
Read All Posts